This time we published a book trailer not realized for our project but, on behalf of a cooperation and a friendship between JUMP and the Romanian school, COLEGIUL DOBROGEAN "SPIRU HARET" TULCEA. 
We discover now, thanks to our friends, the Boovie Festival in Romania which proposes a new way of approaching books, by transforming them into book-trailers by teams of students, coordinated by a teacher.
It is addressed to both highschool and middle school students and it involves:
creating a team of 6 to 11 members
making a trailer based on the proposed book, after reading it (screenplay, directing, acting, editing, etc)
evaluation of the final product by a specialized jury, who will determine the winners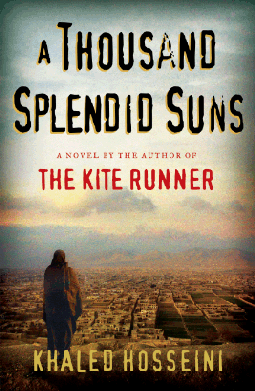 The students read the book which is one the masterpieces of the same author of "The Kite Runner" (2003) and worked on the book trailer of the second book of 2007. "A Thousand Splendid Suns", another incredible "piece of humanity". 
Based in Afghanistan the novel is about friendship, rights violation and a cruel reality which, unfortunately still exists.
In 2023 it's rare to find students who choose such a deep and difficult story. Our congratulations to them for the incredible work of setting, organization, clothes and scenes preparation.
While we are here in the comfort zone, in the civilised world, in the EU, after so many years, the situation in these countries, such us Afghanistan, Iran and the East in general is even worse. Young generations around us are – luckily – aware like these students and book trailers like this one can help other young people to know about it. 
Women are still forced to marry who they don't love, to live in poverty and without power of decision about their present and their future. 
They suffer daily violence, terrible men who are their owners and don't let them be free in every action of their daily life. They can't study, have friends and see something else than their house. 
A Thousand Splendid Suns is a 2007 novel by Afghan-American author Khaled Hosseini, following the huge success of his bestselling 2003 debut The Kite Runner. Mariam, an illegitimate teenager from Herat, is forced to marry a shoemaker from Kabul after a family tragedy. Laila, born a generation later, lives a relatively privileged life, but her life intersects with Mariam's when a similar tragedy forces her to accept a marriage proposal from Mariam's husband.
Hosseini has remarked that he regards the novel as a "mother-daughter story" in contrast to The Kite Runner, which he considers a "father-son story". It continues some of the themes used in his previous work, such as familial dynamics, but instead focusing primarily on female characters and their roles in contemporary Afghan society.
Title
The title of the book comes from a line in Josephine Davis' translation of the poem "Kabul", by the 17th-century Iranian poet Saib Tabrizi:
"Every street of Kabul is enthralling to the eye
Through the bazaars, caravans of Egypt pass
One could not count the moons that shimmer on her roofs
And the thousand splendid suns that hide behind her walls"
Hosseini explained "I was searching for English translations of poems about Kabul, for use in a scene where a character bemoans leaving his beloved city, when I found this particular verse. I realized that I had found not only the right line for the scene, but also an evocative title in the phrase 'a thousand splendid suns,' which appears in the next-to-last stanza."
Let's vote then these students to win the Boovie Festival.
Watch, like and share the book trailer