«I have enjoyed my whole life, despite what they say about the asylum. I have enjoyed life because I also enjoy the hell of life and life is often hell. I enjoyed life because I paid dearly for it»
(Alda Merini)
Annarita Briganti writes an indispensable essay on Alda Merini: 'Heroine of Chaos' (Cairo publisher) 10 years after her death. It is a book that reconstructs the public and private life of the poetess through unpublished testimonies and interviews, enriched by a text by His Eminence Cardinal Gianfranco Ravasi, who was her spiritual advisor, and one of the last letters written by Alda.
The author recounts Merini's life as if it were a novel, capturing the intense existence of a complex and rebellious woman who went against all forms of convention and hypocrisy. In these pages she makes her life soar high, making the poetess known in all her entirety and complexity.
Alda Merini, in fact, is somewhat cramped within the edges of a page because her powerful writing, her famous loves, her countless solitudes between two marriages and four daughters, a world war and her admittances to asylums and fifty electroshocks, flood like a river in flood all the life she lived, full of pain but also joy because as her daughter Barbara says in the book "my mother was also happy".
So many 'Aldes' to make one, which contains worlds and which, ten years after her death, still has much to give and to tell. A model of freedom, a perfect example against today's body shaming. A life that was not always easy, which began immediately with a siege, during the war period, much underestimated by those who questioned the poet's discomfort and her production of verses, aphorisms, and memoirs, linked as never before to her life.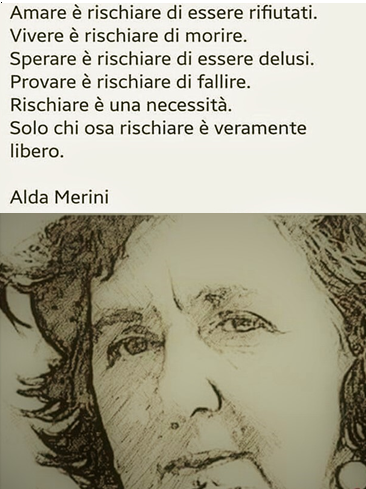 With an original style, Annarita Briganti passionately tells the story of a woman who never gave up being free and who paid a high price for this. Her book gives the Milanese poetess back the freedom to be, to fly over our world, giving her back what many have taken away from her over the years, isolating her and not giving her understanding. The poet said that «if you remove the dust from the wings of butterflies, they no longer fly».